Catch A Lift Fund helps veterans find mental and physical strength through fitness
by Anya Alvarez
Source: ESPN
Lynn Coffland remembers sitting in the basement with her brother Chris on the day he was to be deployed to Afghanistan. He had enlisted in the Army Reserves in December 2007, a month before he turned 42. It was something that he had contemplated doing for a long time, and like anything else he set out to do, he aspired to give it his all.=
An adventurous spirit embodied Chris. Never afraid to tackle a new challenge, he experienced more than average people do in their lifetimes. He played professional football in Finland for the Helsinki Falcons, hunted crocodiles with the Pygmies of Gabon, Africa, coached lacrosse at Brown University and started his doctorate on the evolution of leadership. An avid reader and philosophical to his core, Chris aimed to live his life authentically.
And for Chris, what gave him the mental fortitude to explore above and beyond, was fitness.
"He believed that physical fitness mentally changed someone and could give them the ability to conquer anything in their life. And whenever he would go to the gym he would say, 'I'm going to go catch a lift,'" Lynn said of her brother.
Fitness was such a part of his life that he would incorporate it randomly into family functions or outings.
"We'd be walking down the street, and he'd point to a pole and say, 'Sprint to there as hard you can and drop down and give me twenty.' He just wanted to inspire people to move no matter where they were," according to Lynn.
His dedication to fitness paid off at basic training at Fort Sill in Oklahoma. At 42 years old, he broke every physical training record. There was no doubt that mentally and physically, Chris was ready to serve. However, despite Chris demonstrating that he was prepared for deployment, Lynn understood that her little brother would be in danger.
On the day Lynn was cherishing the last few hours she would have with her brother, she asked him, "What am I going to do if you don't come back?"
She began to cry and he looked at her and said, "I probably won't come back. I had a great life and I had a great run …. But what we have in this moment could never be any better than this moment. If I live another forty years, you think our relationship will be any closer? Every time we leave each other our relationship is as full as it will ever be."
It was the last time Lynn would see her brother.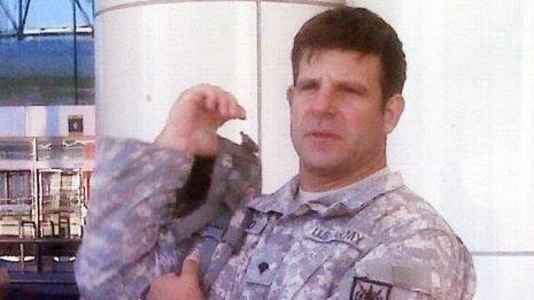 On Nov. 13, 2009, Spc. Chris Coffland was killed in a roadside bombing in the Sayed Abad district of Afghanistan.
When the Army came to Lynn's house to tell her that her brother had died, it took her several hours to process what they had said. "I couldn't believe it. I didn't want to believe it." She had just received an email from her brother the day before telling her that whatever she did, to do it with passion.
The death of her brother took time to process. Still, Lynn says she knew that whatever happened afterward, it would be the way her brother wanted it to be.
"I was a tank. I set up his funeral, his memorial service, everything. And everything I did I made sure to do the way he would want it," she said.
She had people that reached out that served in boot camp with him, his friends, people he served with, and the messages said things like, "I worked out with your brother." "We lifted together." "He helped me get back into shape."
Upon receiving these messages, Lynn knew she had to do something to honor the very thing that not only fulfilled her brother, but that he used to uplift and help others. While brainstorming with her niece Jessica, Lynn told her, "I want to do right by Chris."
Jessica looked at her and said, "Catch a lift." And in that moment, the beginnings of a nonprofit to help veterans coming back from war was born. Within a year, Catch A Lift Fund was established, using fitness as a means to empower veterans and help them gain normalcy back to their lives.
In the same Baltimore basement where her brother told her their relationship would be as full as it ever could be, Lynn began organizing and fundraising for her newly founded nonprofit. At the time in 2010, she learned through research that pure physical fitness was not part of the rehabilitation of veterans. She wanted to change that.
Starting Catch A Lift helped Lynn process her brother's death. "He knew I was struggling, and somehow, he inspired this idea for this non-profit. It was like a gift from him."
Since its founding, Catch A Lift has provided 5,000 fitness programs to 3,030 veterans and caregivers, with 787 awaiting funding. The combat veterans receive gym memberships, in-home gym equipment, personalized fitness and nutrition programs and a peer support network. Veterans who become part of Catch A Lift can get certified to help train other veterans. For Lynn, the peer support is perhaps the most important part of the organization's structure because they understand what each has been through.
"Even through his death, he's been able to help thousands of people. That's just who he was," Lynn says.
Army Spc. Melissa Leuck, who competes in strongman competitions, was hit by an IED in Iraq on Nov. 7, 2005 during a convoy mission. The impact rattled her brain, and she starting having light sensitivity, headaches and migraines on a daily basis. During her year in Iraq, Leuck says was raped by another soldier. Between the two traumatic events, Leuck struggled emotionally, mentally and physically.
Nightmares were frequent, and anxiety was high. She enrolled back in school but could only get through one semester. While driving she would call her husband David because she was certain she was having panic attacks.
She began isolating herself and lost friends and acquaintances.
The treatment Leuck received through the United States Department of Veterans Affairs included taking several medications: anti-depressants, anti-anxiety, pain, sleep and muscle relaxers. She also spent eight weeks in an inpatient program for veterans who experienced combat trauma, did group therapy and received individual counseling.
For Leuck though, she said none of this really helped.
Shortly after having her daughter in 2013, Leuck began working out from home. After two years, she realized she needed to have equipment she could use at home.
"I had heard of Catch A Lift a couple years prior, but at the time I wasn't mentally ready to go through the application process," Leuck said.
In early 2016, Leuck felt ready and she put in an application for an in-home gym grant. Catch A Lift not only helped provide the equipment she needed to continue her fitness journey, Leuck also gained something else: a community.
This aspect of Catch A Lift became an integral part of Leuck's physical and mental recovery.
"They gave me a squad leader who was a female veteran, and she would call me every month and we'd talk about my workout and my goals, how I was progressing. But it wasn't a cookie-cutter phone call. We'd talk like real people," she said.
It was the first time Leuck began having meaningful contact with others outside of her home.
"Being part of [Catch A Lift] has given me purpose back into my life and given me structure and accountability," Leuck said. "When you have an organization like [Catch A Lift] and someone like Lynn Coffland that fully supports and believes in you, it makes you want to succeed that much more because you don't want to let them down. They really believe that your life matters, and it's made me believe that my life matters, too."
Now Leuck serves as a coach and lead for the Catch A Lift Women's Fitness Initiative.
"Now I can mentor other women who have also been wounded in war through fitness. And it's through [Catch A Lift] that I've been given that opportunity," she said.