How the Catch A Lift Fund Is Helping Combat Vets Heal
by Lynn Coffland
Source: Athleticbusiness.com
I am privileged to spend my days providing the benefits of health and fitness to thousands of veterans across America. Ten years ago, in honor of my brother, Army Corporal Christopher Coffland, I founded the Catch A Lift Fund, a 501c3 non-profit that provides gym memberships, fitness equipment and coaching to more than 6,500 (and counting) combat-wounded veterans
On Nov. 13, 2009, my brother Chris was killed by a roadside bomb just days after deploying to Afghanistan. Chris always put the needs of others first, and knowing his enlistment meant one less father and husband in harm's way, he signed up just before his 42nd birthday. Chris was a lifelong fitness enthusiast, and despite earning the nickname "Pops" from his much younger Army brothers and sisters at boot camp, he smashed Ft. Meade's PT records.
My brother understood — as all those who choose fitness as a career do — the importance of working up a sweat, of running one more mile or finishing one more set. Soldiers live and breathe fitness, and those placed in the line of fire are in peak physical condition. For many — far too many — their lives are forever changed in an instant. Bomb blasts, sniper rounds and other battlefield dangers can take limbs, cause brain injuries, and leave scars visible and invisible.
Our heroes return home bearing these scars, no longer able to do the things they used to do in and out of the gym. Weight gain, depression and addiction often follow, and drugs to sleep, drugs to wake up, drugs to calm down and drugs to perk up are all too commonly prescribed. Working out seems impossible, let alone a return to a life focused on health and wellness. At CAL, we know fitness is achievable for all veterans, regardless of the extent of their injuries. Our mission is to reach out to these warriors and provide the means and the motivation to reclaim fitness and health, to foster reliance on a fitness lifestyle to soothe PTSD and depression symptoms, reduce and eliminate unnecessary drug use, restore movement and purpose, and provide a sense of community and common cause.
Since its founding, CAL has given more than 8,000 direct grants to more than 6,500 combat-wounded veterans, changing and often saving lives in the process. We've provided memberships at gyms large and small, CrossFit boxes, boot camp and boxing facilities, climbing centers, spinning and yoga studios — all covered by CAL's generous donors. Those who prefer home-based workouts have received barbells and plates, benches, racks and rigs, rowers, bikes and all sorts of additional fitness equipment — delivered and set up without charge. All grants — whether for gym memberships or home equipment — come with support and accountability. Veterans in our program receive guidance from professional coaches and must satisfy gym attendance and other benchmarks to remain eligible. Ultimately, our grant recipients become CAL ambassadors through their own awareness-building and fundraising efforts, carrying forward our collective mission of restoring health and fitness to all wounded veterans.
Through our program, literally tons of weight has been shed and countless pill bottles emptied forever. Strong ties to local fitness communities have been forged, and veterans have emerged from isolation, finding new tribes and new missions, once more doing what they were put on Earth to do — to be of service to others. Again and again, veterans in our program talk about how CAL's work is so much more than just a gym membership or home gym. What we do changes lives, as the following testimonials demonstrate: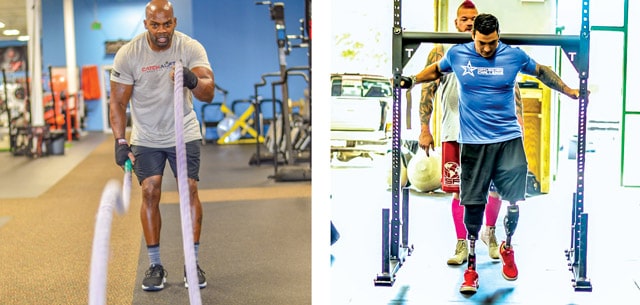 If I didn't have a gym membership, if I didn't have this outlet, I don't know if I'd be here today.
– Sarah R., USMC
Catch A Lift has truly shown me how much I still have to offer to this world, to my veteran brothers and sisters. I thought my mission was over, I no longer had a tribe. Catch A Lift has given me a tribe back.
-Melissa L., US Army
The Catch A Lift … program has been one of the best physical and mental therapy tools I have encountered in my search for overall wellness and recovery from post-military service. My gym routine mixed with healthier eating habits and physical therapy sessions have helped me stay off my antidepressants (and other psych meds) and it also helped me drastically lower the amount of painkillers and muscle relaxers needed to help me maintain my quality of life.
-Vincent J., US Army

For a long time since I got out, I cycled through bouts of depression and PTSD where I struggled to figure out who I was. Many days I didn't want to leave the house, and I certainly didn't want to go to a gym or any other place filled with people I didn't know. Catch A Lift put faith in me. They believed in me and made me feel for the first time outside of my platoon that I wasn't broken or a mess. CAL helped me be me again. I am once again taking care of myself, not just physically but mentally, emotionally and overall. I'm eating right, off all PTSD meds, working out 5-6 days a week and I feel incredible.
-Nicole E., US Army (down 115+ pounds)
I am proud of the many CAL veterans who work hard at being better versions of themselves every day, and I am grateful for the generosity of our supporters and the energy and enthusiasm of our small staff and army of volunteers. Together we have accomplished so much, but the need is far greater still. Fitness professionals understand the power of being strong, healthy and resilient, and there are many ways you can help America's veterans reclaim that power for themselves.
Fitness facilities of any kind and size can host a fundraiser — we make it simple to host a Coffland Hero Challenge, providing step-by-step instructions, workout suggestions, a custom fundraising page, promotional materials and social media campaigns. Gyms, studios and other fitness centers can provide discounted or donated memberships for CAL veterans, helping stretch our resources further.
Equipment manufacturers and suppliers can discount and donate equipment for use by CAL veteran athletes in their home gyms. There is always a great need for adaptive (and adaptable) equipment.
Donations, corporate and personal gifts, and foundation grants are always welcome. It costs an average of $1,500 per year — or about $4 a day — to provide a gym membership, specialized training or equipment to a CAL veteran athlete.
With your help, and the help of the entire fitness community, we can bring the benefits of an active fitness lifestyle to thousands more veterans.