Jose Gomez
Staff SGT USMC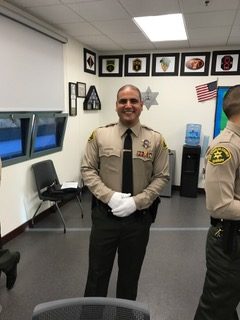 I was accepted into the Academy for the Los Angeles Sheriff Department. On November 4th of 2016. I finished the academy and was sworn into the department as a new deputy for Los Angeles. It was a tough battle and a tough six months, that just a few years ago I would not have thought possible. I was in my lowest point in life before I came in contact with Catch A Lift Fund.
My depression was also something that would hinder my progress in life or any hope of ever succeeding. I was stuck in a limbo where I wanted to do something with my life, but did not have the energy or resources to pull myself out. Then I got an email saying that I was selected by Catch A Lift for a gym membership to help me with my physical aspect of life.
To me that meant the world to me, because fitness meant everything to me; but I could not collect enough funds to go to a decent gym due to my work hours. Over the course of the first month I started by going to the gym 3 times a week, then the second month I bumped it up to 4 times a week. And by the fourth month I was going 5-6 times a week and still working out a double at home! I started meal prepping and being conscious of the way I ate.
CAL's motivation and support added to my self confidence and kept me motivated to know I had support behind me. The following year Catch A Lift helped me get funded for another year to continue my membership. With all the extra confidence, motivation and in better physical shape, I tried out for the sheriff's department, a life long goal since I was a young teen aside from joining the military. Fast forward to now and here I am, another goal completed and pushing for more! I owe my success to Catch A Lift and for believing in me and my potential to help myself become a better me today.
Thank you so much for everything CAL! It has given me all the hope I could need and fire and desire to continue to push for what I want out of life!
CAL Veteran Jose Gomez San Bernardino CA USMC